About the Camp
---
Camp Agape offers an exciting, fun-filled, and cost-free week of summer camping to Vermont children with an incarcerated parent. Since its inception in 2006, hundreds of children have enjoyed our rustic camp and joy-filled community, which is located in the gorgeous Green Mountains of Vermont at Bethany Birches Camp in Plymouth.
Our guiding principle is to enable the children to experience agape, a Greek word which is the kind of love God has for us. Agape is love given freely, generously, and unconditionally. It is love with no strings attached.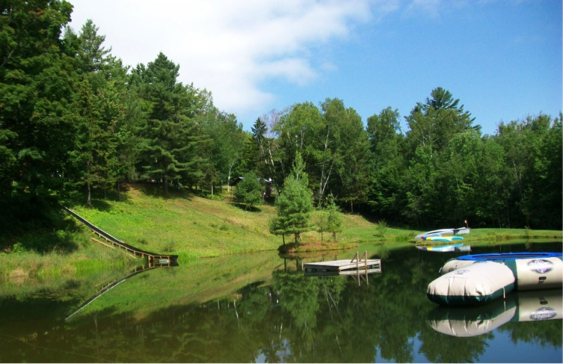 ---
The Camp
History
Camp Agape began in 2006 at Covenant Hills Christian Camp in Cabot. Our first year we had 28 children come to Camp Agape. Since then, we have provided over 600 weeks of camping experience for Vermont children. More than 130 people have volunteered their time and services to support the camp. In 2015, when the camping program at Covenant Hills Camp was suspended, we moved Camp Agape to the equally beautiful Bethany Birches Camp in Plymouth, VT.
Purpose
We are committed to providing, completely free of charge, a week of camping for children who have had a parent/caregiver in prison or under the supervision of the Vermont correctional system.
Ideology
Our guiding principle is to offer the children agape, a Greek word which means the kind of love God has for us; love given freely, generously, unconditionally. It is love with no-strings-attached. We also offer campers an opportunity to share their experiences and feelings about having a parent/caregiver in prison.
Camp Agape offers an alternative to the trauma, grief, and loss children experience when a parent/caregiver is incarcerated. We seek to break the cycle of 'generational incarceration' which traps so many children of prisoners.
One counselor put it this way: "In that week at camp, I really felt like I was experiencing the Kingdom of God!"
---
How Much Does Camp Cost?
Nothing! It's free. For every single camper. But obviously it costs money to send 60 to 70 campers to camp for a week. Bethany Birches charges Camp Agape $495 for each camper. In addition, every camper is supplied with a clean sleeping bag for their stay, and receives a backpack with flashlight and lots of other camping gear, T-shirt, 'hoodie' sweatshirt, beach towel and back-to-school supplies. With administration costs such as registration packets, mailings and camper transportation, a camper scholarship in 2019 cost $600. In 2019, the entire program cost $38,000. It costs over $60,000 to keep a VT inmate in jail for a year.
How much does Camp Agape cost? In volunteer time and love: priceless.
Camp Agape is funded through the generosity of individual donors, congregations, and the Fanny Allen Foundation.
---
Can We Come Back Next Year?
The answer is a resounding 'Yes!' Many children have returned for 7, 8, even 9 summers! Even though there are an estimated 6000 Vermont children who have experienced their parent's incarceration, we believe that our campers benefit by returning year after year. The relationships they build at camp grow and deepen each year. These positive relationships are the most effective contribution we can offer as a path out of generational incarceration.
What happens when a child grows beyond the 8 to 11 age limit?
Every year, we invite our campers who have turned twelve years old, to attend a week of camp that is appropriate for their age. The only requirement is that they have previously attended at least one year of Camp Agape. They will attend Bethany Birches Camp while other campers their age are attending the camp. Our campers will be in a cabin group made up of Camp Agape campers, but will also participate in camp activities with the full camp. At Bethany Birches, the cabin groups prepare their own meals at the campfire, and spend a lot of time with each other. They also have many opportunities to choose the activities they each want to do in the full camping program that Bethany Birches offers. We are fortunate to have some very experienced counselors who have enjoyed working with our older campers each year.
What will happen when a child reaches 15?
They can choose to continue as a Camp Agape camper in Bethany Birches' high school program. They can also choose to enter the Leadership Development program at Bethany Birches. We are excited to now have some Junior Counselors who were once Camp Agape campers.
What happens if a child has to be sent home before the end of camp?
We assure the child that a place has been reserved for him/her for next year. One little boy, as he was being driven home when the children were enjoying a water carnival and sliding down a hill on plastic sheets coated with suds, asked "Can we do that the first day next year?" His mother quickly signed him up for the next year.
---
Children of Incarcerated Parents
Did You Know?
1 in 17 children in VT (6% of all children from birth to 18 years) experiences a parent's incarceration.
On any given day, 1600 VT children have a parent in prison.
Over the course of a year, parental incarceration affects 6000 VT children.
8% of VT inmates experienced the incarceration of a parent or loved one when they were a child.
From Report to the VT Legislature on Act 168, submitted January, 2015 by the VT Agency of Human Services
These Are Our Children
Parental incarceration is different than other forms of absence of a parent. There is an unshakeable cloud of stigma and shame that accompanies the child through no fault of their own. They don't have opportunities to talk about it. Children often feel that they caused it. Most often, they struggle to     balance their anger and sense of abandonment with their continuing love for the special person that is their parent. Their lives are disrupted, chaotic, often complicated by poverty and ongoing trauma. They are more likely than their peers to have anxiety, depression, PTSD, ADHD, and serious behavioral challenges.
"Mass incarceration is the greatest threat to child welfare in the United States."